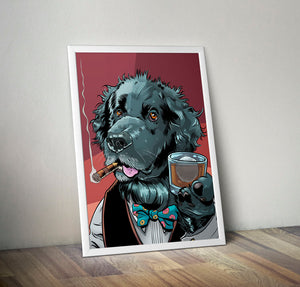 Pet Portrait - Bowser
Regular price
$ 35.00
$ 0.00
I created this for my wife, Heidi, as a wedding gift in 2018.
Bowser is 145lb purebred Newfoundland. No, he is "not a horse", we don't "ride him with a saddle", and yes, we are walking him. Also, please don't immediately tell me about the painful disease that took your Newfie "right around Bowser's age."
Yes, this happens. All. The. Time.
Bowser is enjoying an Old Fashioned made with Woodford Reserve, orange and angostura bitters, and brown sugar simple syrup. He doesn't usually partake in craft cocktails but his parents do!
Created August, 2018
Line art: iPad Pro/Apple Pencil
Colors: Photoshop
11x14" art print on acid free, 61lb, 11 mil thick, 230 g/m2, high luster photography paper. Hand treated for moisture resistance, UV protection against fading, and archival safe.