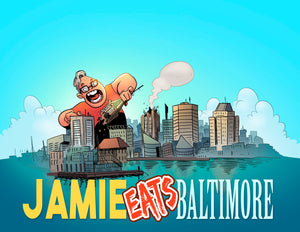 Jamie Eats Baltimore
Regular price
$ 0.00
$ 0.00
I was hired by neighbor and friend, Jamie, to create the banner for his new food blog,
Jamie Eats Baltimore
. I created the art, but the concept was all Jamie's. He knew everything from which rooftop he would be holding line a drumstick to which cardinal direction we would face the city from.
Thanks for the commission, Jamie! It was super fun to draw my Charm City being consumed by a thousand foot food blogger!
Created May, 2018Line art: iPad Pro/Apple PencilColors: Photoshop