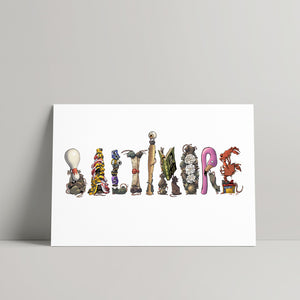 INFESTED!
Regular price
$ 50.00
$ 0.00
INFESTED! 
Created on November 15, 2023. 

Embracing our beautiful, complicated city's reputation as a rat infested... place, I tried to cram as many Charm City trinkets, history, and rats as I could fit on the page.
B: Duckpin Bowling
A: Maryland state flag
L: Heavy Seas' Hazy Cannon IPA, Monument City Brewing's 51 Rye IPA, Ministry of Brewing's Wispy Pale Ale, Ravens Edition National Bohemian
T: Francis Scott Key's "Star Spangled Banner"
I: Babe Ruth's signed bat and Orioles baseball 
M: Edgar Allen Poe's book of poems
O: Billie Holiday's signature Gardenia hair flair
R: Hon Flamingo
E: Crabs and Old Bay
13x19" art print on acid free, 61lb, 11 mil thick, 230 g/m2, high luster photography paper. Hand treated for moisture resistance, UV protection against fading, and archival safe.